Tatijana Q&A

We have been luckily enough to have a Q&A with Tatijana to get to know her a bit better and discover her art skills!
What got you into yoga?
My mum introduced me when I was a little girl but I only started reaping the benefits in 2016. I was an event manager and found myself constantly tensed up with back and neck pain. I turned to yoga to help the stress and my back/neck pain.
Where's your favourite place to practice yoga?
My favorite place is outside, somewhere warm and quiet. In South Africa, i loved practicing in the morning sun! It got me sweating and warm, it always filled me up with an amazing feeling.
What is your favourite class to teach?
I love teaching one-on-one classes because I can focus all my energy on my client as well as plan the class based on their goals and capabilities. But there's always the fun in just teaching!
What advice would you give for someone wanting to start yoga?
There's no wrong time to start yoga. I would advise doing beginner yoga online (especially during COVID), tryout different styles of yoga and do research on the history of yoga. Hatha yoga is good for beginners, Vinyasa yoga is great too! Build strength and flexibility slowly and be patient with your body - you do not need to be strong or flexible to do yoga. This all comes with doing yoga!
What's your favourite photo of you practicing yoga?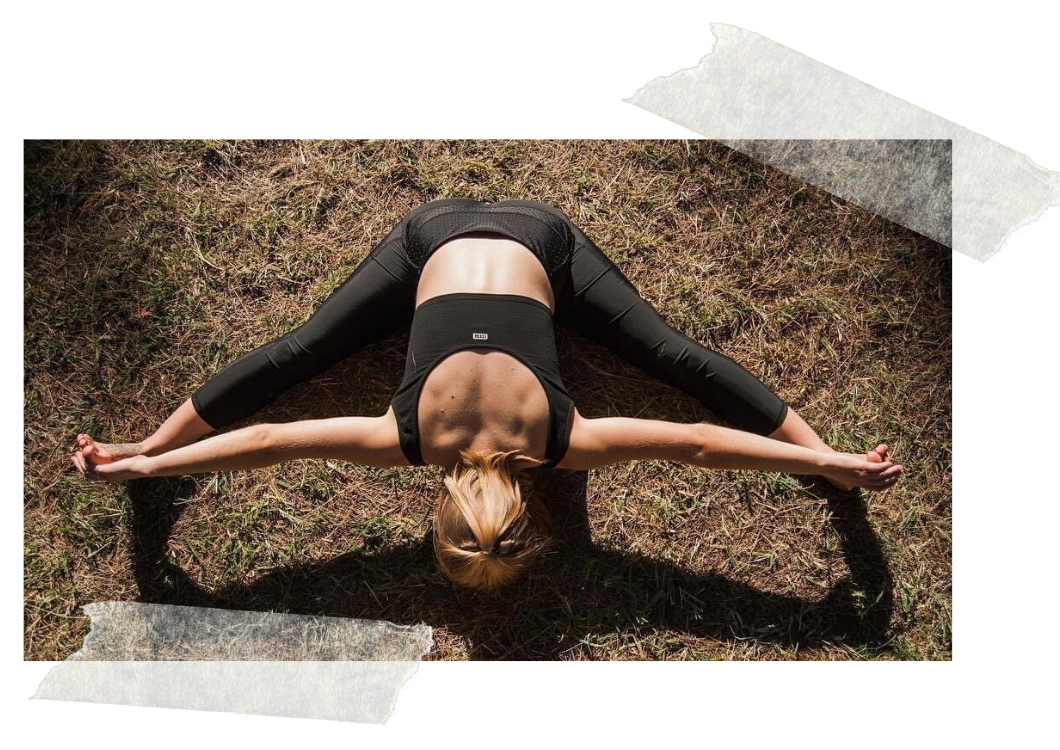 Who's your favourite yoga instructor?
This is tough! There's not a single instructor whose class I didn't enjoy. But I get super excited when I see something from Vanessa Burger pop up! I've only ever done her YouTube classes but I really enjoy how she gives a class and the energy she gives off even on video.
What is the hardest part of being a yoga instructor?
I think your mindset can often cloud your answer to a question like this. There's never one thing. If an obstacle comes my way I always figure out how to get through it or how to change things to make sure that obstacle becomes a tool to help better myself as a student and teacher in yoga. There's nothing "hard" about yoga and there shouldn't ever be.
What do you love most about yoga?
It's always there! Sometimes I just don't feel like it, I've lost the want many times to get onto my mat. But the thing is, that as soon as you just start letting go and just get into your flow, your body soaks up all that warmth and goodness and everything is ok again.
Where's your favourite place you've visited?
I can't think of a favorite place. But anywhere that has cool hiking trails and the beach! Most of the places that come to mind are places that I was at with close friends, just hanging out.
Biggest Fear?
Not knowing what's at the bottom of the sea floor when I'm swimming/surfing.
What movies could you watch over and over and still love?
All the Harry Potter movies! Dirty dancing, flipper and a good year.
Favourite meal?
Melanzane with a bottle of red wine! And baklava for dessert!
Any hobbies?
I'm a runner and love being in water! I love cooking, baking and creating. I like drawing and have done a series of 5 self-portraits.
Join Tatijana:
Tatijana teaches with us twice a week! Check out her sessions!
Monday & Tuesday at 9am - Vinyasa Yoga/ Meditation - Within these sessions you will learn how to use your breath and intention to help ease your mind and reduce distractions. Your body will gain strength and flexibility with these flows.
We'd like to thank Tatijana for letting us delve a little deeper into her life outside of Yoga! She's obviously a woman of many talents!
If you want to keep up to date with Tatijana's many hobbies follow her on Instagram.